Contact Us
Manager:
Telephone:
Address:


Email:
Kelly Wills
01256 882515
5-6 Stocks Barns, Minchens Lane, Bramley, Hampshire, RG26 5BH
butter@mydaisynursery.com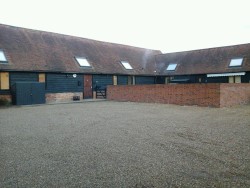 Butter Daisy Nursery operates from a renovated Victorian dairy barn in the beautiful village of Bramley. The L-shaped barn is situated in the heart of the historic parish and is surrounded not only by fields but also excellent commuter links for Reading and Basingstoke. Butter Daisy Nursery offers character in its beams and age, but also thoughtful well designed spaces including a special garden flowing out of our stable doors. Internally we have furnished with natural décor letting our traditional wooden furniture and equipment speak for itself and our children's colourful arts and crafts decorate the building.
The newly refurbished barn offers freshness without losing the homely charm or identity we work so hard to be synonymous with the Daisy brand. Our major focus when designing the layout of this nursery was to understand the individuality of each child and how we can best accommodate and enhance that; we want to fit your child – not your child to fit us. Each age grouping has their own well equipped areas within the barn allowing flexibility of play and learning in a wide space but still offering familiarity and security. Our team are highly skilled and extremely well qualified. Our Nursery Manger Kelly looks forward to welcoming you and your child to her setting.