Farnborough Air Show 9-22 July
For our Crown Daisy parents and carers; there is expected to be heavy traffic around Farnborough and Aldershot for the duration of the air show, this may affect your travelling to and from our nursery. If you would like more information on the road closures please
click on this link
. We can't wait to see and hear the aeroplanes flying over us and seeing how their presence translates into children's play.

Summer of Fun 2018

For full details of our Summer of Fun enrichment plans, please visit your personal parents page and click on the attachment. Our theme this year is The Marvellous World of Animals, and we can't wait to see what journeys this starting point will take us on. We have some special visitors booked in, some creative dressing up days planned and the deliveries of new resources are coming in thick and fast! We can't wait to hear what your child thinks of these new experiences, and to hear all about your summer of fun too!

Training Update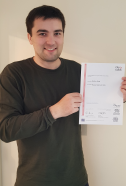 This month the Nursery Managers and Claudia attended the NDNA training, "Preparing for an Ofsted Inspection" in Reading. The day gave them an opportunity to dissect each of the key judgements that an inspector will be reporting on and network with colleagues from our industry. They found the day insightful and it was helpful to spend time reflecting on each of our settings and how to show them off at an inspection.
We have lots of positive training news to share this month. Well done to Matthew for completing his Level 5 NVQ in Occupational Health and Safety Practice and also to Georgia for completing her Level 3 Diploma in Children's Learning and Development (Early Years Educator) and attending her presentation ceremony this week. Both team members have balanced studying for their qualifications alongside work and are keen to put their respective areas of expertise into action.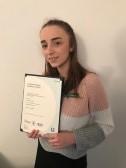 So many of our team are currently undergoing further training or study towards areas they are particularly passionate about, we look forward to sharing their progress and success in due course. We are also pleased to announce we have enrolled and had accepted another cohort of graduates at Reading University to commence their post graduate Early Years Teaching course in September. We are always busy balancing the needs of the children in our nurseries to have consistent and familiar carers, with the needs of our staffing team ensuring we offer opportunities for professional development in various ways. We know when colleagues develop and enhance their skills and understanding, this will directly impact and benefit all our children and their families.

Summer Menus
The new rolling Summer Menus are now live on the Parents Page of our website. We can't always fit the various options we provide to support stages of weaning, dietary, cultural or religious requirements on this link, so please speak with your child's key person to discuss the alternative, but where possible, inclusive, meals for your child.
Our Nursery Cooks are always keen to hear feedback about what your child likes best, so please let them know. As a team we have our own favourites and ensure we help "quality" check the home baked flapjacks wherever possible.

A New Baby Deck For Sunshine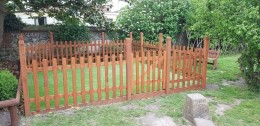 Matt has been very busy recently as he has built a special outdoor deck for our littlest children to enjoy. This cocooned space will provide a secure outdoor environment for our babies and young toddlers to explore, and we can't wait to see their faces next week when we unveil the new resources and space to them. We have positioned it in the shade of our beautiful magnolia tree, and we have designed the decking area to fit a canopy or gazebo for the hottest months of the year. When we designed the deck, we wanted to ensure that the children using this space were still able to see, smell, hear and experience the rest of the garden, and could continue to wave to the Chinooks above and the horses who pop their heads over the wall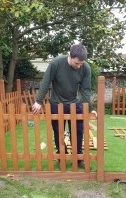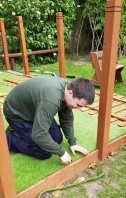 to say hello. Our littlest children will still enjoy the rest of the lovely farmhouse outdoor environment too with their key people; the decking space is an added bonus with the aim of aiding our less confident children in feeling safe, and able to play and learn comfortably, at a slower pace than the zooming toddlers learning to master the balance trikes or climb the tractor wheel!
We hope you love it as much as we do, please do pop in to have a look when you can and let us know what you think. We still have colourful bunting, outdoor mirrors and sensory baskets to fix to the railings to enhance the learning opportunities, and a rustic hand painted sign to match our garden patch ones.

Another 5 Star award!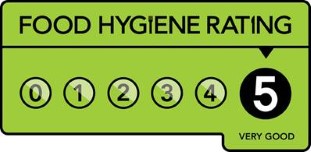 Many congratulations to the team at Sunshine Daisy who achieved the best rating possible for their kitchen and operational practises.
We are very proud of the high standards of cleanliness and safety in our kitchens, and the menus we design and create for the children. Our seasonal summer menus are currently a work in progress, we look forward to sharing them with you soon on our Parents Page.
Well done again Emily, Igor and the team.

Some information about GDPR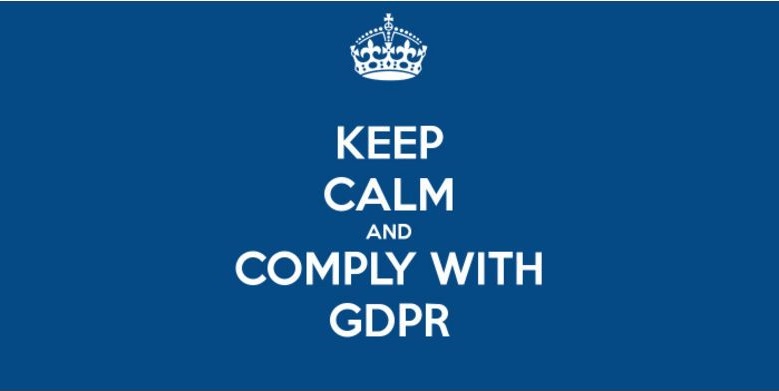 Here at Daisy Nursery we continue to take your privacy very seriously and will continue to only use your personal information to administer your account and to provide the products and services that we offer and that you have requested from us. You will shortly receive a letter from your Nursery Manager asking you to confirm your consent that we are able to continue holding and processing your data and sending you information about your child and the nursery. Please could you complete this letter as soon as you are able to, and ensure it is returned to your Nursery Manager for updating on our system, thank you very much. For more information about the updated data protection regulations, and how we as a company are adhering to them, our parent's policy booklet will be updated online shortly and then reprinted in our nursery sites.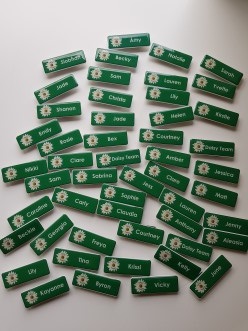 Who's Who at a Glance
As you might have seen over the last few days, we have introduced new Daisy name badges for our team members. We have been hesitant to do this in the past simply because our nurseries are small and we work hard on introducing everyone to our families. However, we know that dropping off and collecting times can be busy and you have so much to take in, listening to how your child's day went; what they ate; whether they slept; and what they enjoyed exploring, that it can be difficult to learn all our names and faces.
We also know that despite our close key person partnerships with you, children form attachments with other adults in the setting and if it helps you put a face to the name of the person who read The Gruffalo after lunch, or who helped put wellies on, or is your child's best friend's key person, then hopefully it will help you feel more connected with our nursery family.
The green badges reflect our new branding, however the text for our names is slightly different as we wanted it to be clearer and use the correct way of forming "a" to help our pre-schoolers in recognising the print.
Don't forget all our photos are on display in each nursery reception area, as is our personal DBS number, a list of our qualifications and a short fact we wanted to share with you about us. We keep these as updated as possible and only get mildly frustrated when colleagues decide to dye their hair as it means a reprint!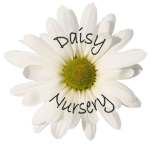 A Refresh for Daisy Nursery
As you can see we have refreshed our website and updated it to reflect our company brand and colours, whilst keeping the familiar identity we have built over the last nine years. We have stripped back the unnecessary content and worked hard to ensure that the concise and relevant information prospective and existing parents might need is still easy to navigate and access. There were areas we found impossible to keep updated such as the individual galleries on the Parents Page, as there were always so many other pressing things to do and because lots of photographs are sent securely via eyLog to every parent already, it felt like doubling our workload superfluously. We hope you like the new site, you may need to refresh your browser to update your settings. We are still working on formatting our mobile friendly website, but aim to have this finished soon too. If you don't have Adobe on your Apple device you can now access your invoices in the drop down bar on our Parents Page, rather than embedded into the e-statements like with all other operating systems. Please do continue to visit this page to read our blog articles, and of course, the weekly bulletin from your Nursery Manager on your nursery's Parents Page.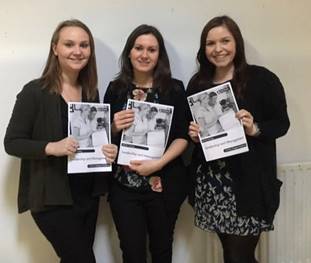 NDNA Leadership and Management Training
Last Friday our three Nursery Managers attended the NDNA Leadership and Management Training led by Rosalind Millam. They all found this course inspiring and came away with a toolkit of ideas which will enable them to motivate their teams to strive for the best practise day to day.
All three were able to reflect on what it means to be a leader and manager, exploring what traits they feel they bring to the role and what they need to develop. Having the training with others in the company enabled them to share strategies, then use the company vision to compare how theirs fits into this. The trainer felt that vision played a very important role within successful companies and by leading and empowering teams to see and reach for a vision harnesses a more effective workforce with a common goal.
During the course they explored Henry Mintzberg and Hersey-Blanchard theories of leadership acknowledging that individual people need different styles of leadership and how important it is to recognise this before deciding on the approach to use. Emily, Caroline and Amber felt that they had taken away 'can do's' and new skills to explore their own approach to leadership and management within their own teams. The certificates of achievement will add to their continued professional development and we look forward to booking our Deputies on the same course soon to develop their individual skills, and also to ensure a consistent approach in our senior teams.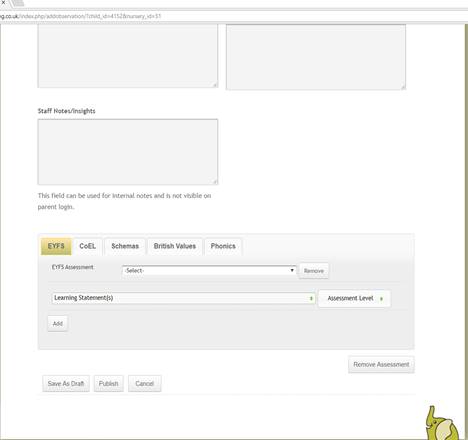 eyLog Updates
In our commitment to providing continual progression, we will be introducing three new Frameworks to ensure that our observations capture the true essence of every child. The three new Frameworks will be listed in the assessment box and are ready for you to open. The team will use these frameworks to enhance the observations at an age and stage appropriate level.
Schemas
A schema is a pattern of repeated actions or behaviours. This is a child's way of making sense of the world they live in. For example: toddlers love to collect items from around the nursery suite and take them to another part of the room. Then they will collect up all of the items again and move them to yet another part of the room. This is a Transportation Schema. The eyLog descriptors enable you to see these patterns and link these behaviours to new understanding the child is working through. In Early Years recognising these behaviours enables our team to provide lots of relevant play experiences or parts to increase the potential of the play.
British Values
The British Values have been broken down into the following headings;
Democracy
The rule of law
Individual liberty
Mutual respect and tolerance
We consider the child's level of understanding at the heart of when teaching these values. Therefore, many of them are embedded within the 'Personal, Social and Emotional' area of development. When British Values are unpicked they consider a child's self-esteem, learning a respect of others, understanding behaviour boundaries and many more. I feel very strongly that this is something our settings excel at. When the Ofsted inspectors have fed back they comment on the quality of the children's self-esteem and confidence.
Phonics
Currently there is a strong emphasis on the acquisition of literacy skills, by introducing this framework we will demonstrate to you the small steps required to embed the solid foundations for future literacy success. This framework will grow in use from toddlers until the children leave for school and onto the end of Reception. At Nursery all the Toddler and Pre-School suites run daily language groups, these are in response to the Hampshire wide expectation to improve all children's language acquisition. The staffing team plan and carry our dedicated activities to stimulate the children's passion for communication and love of learning. This planning and the observations of these groups will further embed the meaning of phonics.
Please let us know what you think of the new Frameworks, and don't forget the function enabling you to continue to upload your own home observations too. The team can then respond to your child's current interests and true-life experiences. This strong partnership enables us to capture the curiosity and engagement of a child.

Team Coach Trip to Coventry!

Very early on Saturday 30th September the Daisy team met outside Sunshine Daisy for our coach to arrive to take us on our annual meeting and training event to Coventry where we were delegates at the Childcare Expo. It was a brilliant day with plenty of seminars and workshops, trade stalls to shop and be inspired by, and of course, fellow professionals to network with. On the drive there, the driver let me loose with his microphone so I got to share the annual company results, celebrate successes and discuss the challenges we had faced together. Each week our Nursery Managers award a colleague "Team Member of the Week". Alongside the slightly cheesy certificate for their HR file, they also get a paid hour off work – either to go home early or to come in late one day. This is one way we say thank you for anyone going above and beyond outstanding practise. At our annual meetings we count up the years awards at each setting and celebrate the colleague with the most awards over the course of the year. I'm proud to share that this year these were:
Sunshine Daisy
– Kirstie;
Butter Daisy
– Jade;
Crown Daisy
– June.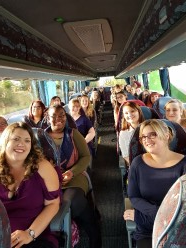 We also introduced a new award this year for most Inspiring Practitioner of the year. These ladies were judged, assessed and chosen by Claudia our Quality and Training Manager, and I awarded them an extra day annual leave as a thank you for inspiring standards and showing true passion for the children in our care. These winners were:
Sunshine Daisy
– Nikki;
Butter Daisy
– Lily;
Crown Daisy
– Jade.
Thankfully, we arrived at our destination before I could treat the team to any karaoke; and we took our big empty bags, packed lunches and headed to the Ricoh Arena. It was noisy, colourful, overwhelming and there was so much to see and do. Some of the team headed straight to the Twinkl zone to get hands on with crafts to learn and bring back to work. Some were seen zooming around wearing their superhero capes and masks, others cradling the wet fairy stones they had created in the messy area. Everyone on the team had been booked onto a training seminar to enable us to work on our continuous professional development, and everyone chose a seminar that was relevant to them, their individual passion or suite or their cohort of key children. I thoroughly enjoyed mine on understanding Self Regulation in Early Years and how we manage transitions for our youngest children effectively. Your key person will be happy to share with you what seminar they chose, and how they felt it has helped their particular skillset.
The workshops were loud and very participative – the colourful parachute was flying, the puppets were singing, and everyone was given an opportunity to get involved. The stall holders gave us great discounts so we were able to pick up some really useful products and resources for our nurseries, including some new light up boards we are all very excited to show you when they arrive. The team also found some great toolkits to use in our planning and EYFS digital paperwork, and so we purchased full sets for each staff room and office area as guidance. With a lighter purse, some heavier bags and tired legs we made it back to our coach (slight detour as the posh Crewe Alexander FC coach was parked where we thought our driver was meeting us!) and made our way home. A great success and lots of fun, we are already looking forward to our coach trip next year!

Senior Team Attend NDNA South East Conference

The nursery senior team travelled to Kent last Tuesday to attend the National Day Nursery Association's South East conference. On the agenda were national updates, advice from technical and industry experts in a variety of key areas, and of course – much discussion about the contentious 30 "free" hours. It was a good event to attend as it enabled us to see the wider challenges facing the industry and how we fare amongst our colleagues. We were treated to a guest speaker from Humpties nurseries and pre-schools in Staffordshire, whose approach to the funded hours was insightful and validated many of our recent decisions in this area. As you know from my letter to all parents and carers regarding the new policy, it is a much-derided scheme across the nursery sector and there are many fighting to see a fairer way of implementing a policy that fits both parents and practitioners. If you are interested in how the industry views "free" hours, please visit the webpage Champagne Nurseries - Lemonade Funding for more details and a link to the petition. All support is greatly appreciated.
Purnima Tanuku OBE addressed the conference and gave a passionate speech about the work she and her colleagues are doing to improve conditions in the industry. She came over to the Daisy team during the break and kindly answered all our questions and listened to our problem with underfunding, particularly as we were previously given funding per hour based on our Ofsted gradings – this has now been cut and we are awarded the same banding in our three Outstanding nurseries as if we were Inadequate. "Surely a race to the bottom in terms of quality?" I asked. She assured us that the fight was only just beginning and the evidence being gathered by the NDNA to support the badly thought out scheme was building. I told her about the local outstanding preschool in Rotherwick, near Hook, now closed because it was no longer feasible to operate high standards with low funding. A huge loss for the industry and a very sad day for all passionate providers. She agreed, but with her own figures stating "55% of day care providers anticipate making a loss or breaking even this year" no wonder she was not surprised.
The senior team and I came away with new ideas, a better knowledge of the industry as it stands now, and a clear focus to move us forwards. And despite me driving – we only got lost coming back from Kent once!

30 Hours of Childcare - September 2017
From the start of the next academic year, Daisy Nursery will be offering both the universal 15 funded hours per week and the additional 15 funded hours for eligible children who have been offered a place at one of our nurseries. Please visit
https://childcare-support.tax.service.gov.uk/par/app/applynow
for details of how to check your eligibility as a family and for your verification code.
If you are a current parent of a Daisy Nursery, you will receive an email with more information about how the process works. If you are a prospective parent and would like more information about the scheme, please contact the Nursery Manager of your preferred location.