eyLog Updates by Claudia
In our commitment to providing continual progression, we will be introducing three new Frameworks to ensure that our observations capture the true essence of every child. The three new Frameworks will be listed in the assessment box and are ready for you to open. The team will use these frameworks to enhance the observations at an age and stage appropriate level.
Schemas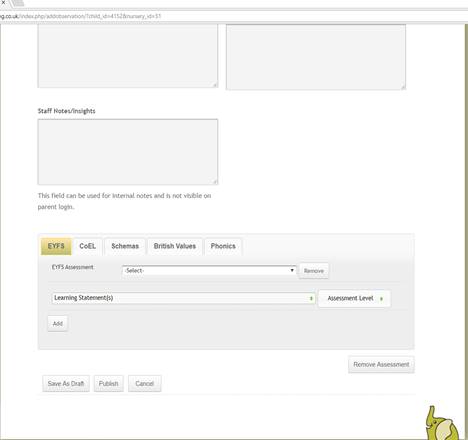 A schema is a pattern of repeated actions or behaviours. This is a child's way of making sense of the world they live in. For example: toddlers love to collect items from around the nursery suite and take them to another part of the room. Then they will collect up all of the items again and move them to yet another part of the room. This is a Transportation Schema. The eyLog descriptors enable you to see these patterns and link these behaviours to new understanding the child is working through. In Early Years recognising these behaviours enables our team to provide lots of relevant play experiences or parts to increase the potential of the play.
British Values
The British Values have been broken down into the following headings;
Democracy
The rule of law
Individual liberty
Mutual respect and tolerance
We consider the child's level of understanding at the heart of when teaching these values. Therefore, many of them are embedded within the 'Personal, Social and Emotional' area of development. When British Values are unpicked they consider a child's self-esteem, learning a respect of others, understanding behaviour boundaries and many more. I feel very strongly that this is something our settings excel at. When the Ofsted inspectors have fed back they comment on the quality of the children's self-esteem and confidence.
Phonics
Currently there is a strong emphasis on the acquisition of literacy skills, by introducing this framework we will demonstrate to you the small steps required to embed the solid foundations for future literacy success. This framework will grow in use from toddlers until the children leave for school and onto the end of Reception. At Nursery all the Toddler and Pre-School suites run daily language groups, these are in response to the Hampshire wide expectation to improve all children's language acquisition. The staffing team plan and carry our dedicated activities to stimulate the children's passion for communication and love of learning. This planning and the observations of these groups will further embed the meaning of phonics.
Please let us know what you think of the new Frameworks, and don't forget the function enabling you to continue to upload your own home observations too. The team can then respond to your child's current interests and true-life experiences. This strong partnership enables us to capture the curiosity and engagement of a child.
Team Coach Trip to Coventry!

Very early on Saturday 30th September the Daisy team met outside Sunshine Daisy for our coach to arrive to take us on our annual meeting and training event to Coventry where we were delegates at the Childcare Expo. It was a brilliant day with plenty of seminars and workshops, trade stalls to shop and be inspired by, and of course, fellow professionals to network with. On the drive there, the driver let me loose with his microphone so I got to share the annual company results, celebrate successes and discuss the challenges we had faced together. Each week our Nursery Managers award a colleague "Team Member of the Week". Alongside the slightly cheesy certificate for their HR file, they also get a paid hour off work – either to go home early or to come in late one day. This is one way we say thank you for anyone going above and beyond outstanding practise. At our annual meetings we count up the years awards at each setting and celebrate the colleague with the most awards over the course of the year. I'm proud to share that this year these were:
Sunshine Daisy
– Kirstie;
Butter Daisy
– Jade;
Crown Daisy
– June.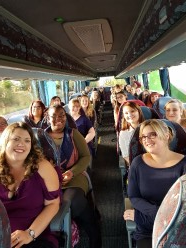 We also introduced a new award this year for most Inspiring Practitioner of the year. These ladies were judged, assessed and chosen by Claudia our Quality and Training Manager, and I awarded them an extra day annual leave as a thank you for inspiring standards and showing true passion for the children in our care. These winners were:
Sunshine Daisy
– Nikki;
Butter Daisy
– Lily;
Crown Daisy
– Jade.
Thankfully, we arrived at our destination before I could treat the team to any karaoke; and we took our big empty bags, packed lunches and headed to the Ricoh Arena. It was noisy, colourful, overwhelming and there was so much to see and do. Some of the team headed straight to the Twinkl zone to get hands on with crafts to learn and bring back to work. Some were seen zooming around wearing their superhero capes and masks, others cradling the wet fairy stones they had created in the messy area. Everyone on the team had been booked onto a training seminar to enable us to work on our continuous professional development, and everyone chose a seminar that was relevant to them, their individual passion or suite or their cohort of key children. I thoroughly enjoyed mine on understanding Self Regulation in Early Years and how we manage transitions for our youngest children effectively. Your key person will be happy to share with you what seminar they chose, and how they felt it has helped their particular skillset.
The workshops were loud and very participative – the colourful parachute was flying, the puppets were singing, and everyone was given an opportunity to get involved. The stall holders gave us great discounts so we were able to pick up some really useful products and resources for our nurseries, including some new light up boards we are all very excited to show you when they arrive. The team also found some great toolkits to use in our planning and EYFS digital paperwork, and so we purchased full sets for each staff room and office area as guidance. With a lighter purse, some heavier bags and tired legs we made it back to our coach (slight detour as the posh Crewe Alexander FC coach was parked where we thought our driver was meeting us!) and made our way home. A great success and lots of fun, we are already looking forward to our coach trip next year!
Senior Team Attend NDNA South East Conference

The nursery senior team travelled to Kent last Tuesday to attend the National Day Nursery Association's South East conference. On the agenda were national updates, advice from technical and industry experts in a variety of key areas, and of course – much discussion about the contentious 30 "free" hours. It was a good event to attend as it enabled us to see the wider challenges facing the industry and how we fare amongst our colleagues. We were treated to a guest speaker from Humpties nurseries and pre-schools in Staffordshire, whose approach to the funded hours was insightful and validated many of our recent decisions in this area. As you know from my letter to all parents and carers regarding the new policy, it is a much-derided scheme across the nursery sector and there are many fighting to see a fairer way of implementing a policy that fits both parents and practitioners. If you are interested in how the industry views "free" hours, please visit the webpage Champagne Nurseries - Lemonade Funding for more details and a link to the petition. All support is greatly appreciated.
Purnima Tanuku OBE addressed the conference and gave a passionate speech about the work she and her colleagues are doing to improve conditions in the industry. She came over to the Daisy team during the break and kindly answered all our questions and listened to our problem with underfunding, particularly as we were previously given funding per hour based on our Ofsted gradings – this has now been cut and we are awarded the same banding in our three Outstanding nurseries as if we were Inadequate. "Surely a race to the bottom in terms of quality?" I asked. She assured us that the fight was only just beginning and the evidence being gathered by the NDNA to support the badly thought out scheme was building. I told her about the local outstanding preschool in Rotherwick, near Hook, now closed because it was no longer feasible to operate high standards with low funding. A huge loss for the industry and a very sad day for all passionate providers. She agreed, but with her own figures stating "55% of day care providers anticipate making a loss or breaking even this year" no wonder she was not surprised.
The senior team and I came away with new ideas, a better knowledge of the industry as it stands now, and a clear focus to move us forwards. And despite me driving – we only got lost coming back from Kent once!
30 Hours of Childcare - September 2017
From the start of the next academic year, Daisy Nursery will be offering both the universal 15 funded hours per week and the additional 15 funded hours for eligible children who have been offered a place at one of our nurseries. Please visit
https://childcare-support.tax.service.gov.uk/par/app/applynow
for details of how to check your eligibility as a family and for your verification code.
If you are a current parent of a Daisy Nursery, you will receive an email with more information about how the process works. If you are a prospective parent and would like more information about the scheme, please contact the Nursery Manager of your preferred location.
Toilet training – What to consider ……
In the last few years I have noticed a trend for parents to delay toilet training for as long as possible. This often results in missing the optimum moment to capture a child's interest and ability to be successful when toilet training.
Society has now placed such pressure on our young children to achieve and children are given an array of incentives when toilet training that can get in the way of what we, as the adult, are actually trying to teach them.
Remember toilet training is essentially a natural bodily function that we all have to master. When starting out, do not take the children to the toilet or potty too often as they will never learn to hold a wee and can develop a twitchy bladder that will not hold on. This can also put a child off as it overtakes their whole life being disrupted when they are engrossed in an activity or play situation.
Consider that when too much fuss is made the novelty can wear off and the child will often wonder what the bother is all about and revert back to using the nappy or soiling themselves. The process can be made fun but do not go overboard. There is no magic age and all children will differ, but the process you use can be the same. Tell-tale signs that a child might be ready to start the process are …..
• The child will communicate their urination and or bowel movements
• The nappy stays dry for longer periods of time
• Some children will slope off and hide, giving themselves some privacy during bowel movements
As a primary carer about to embark on toilet training you need to set aside a minimum of two weeks to ensure the new behaviours are embedded. A commitment to no nappies or pullups being worn during this time, unless at bedtime, and if very brave, tackle both at the same time. Children need to understand how it feels to be wet/soiled and uncomfortable. Using pullups tends to confuse a child as they feel secure and when they wet, do not get the sensation of being uncomfortable therefore defeating the object.
Thinking about the potty versus toilet, some bigger children find it uncomfortable to sit on a potty and will have greater success sitting straight on the toilet, they will however, need a step up to support their feet so that they feel secure and to enable the knees and feet to be on a stable surface.
Children will often master urination more quickly than passing a stool and can become constipated from holding on – Using a potty enables the bowel to empty more efficiently as the child is in a squatting position, as well as this, they do not fear the splashback. Do not restrict fluid intake during toilet training as this will lead to hard stools that are difficult to pass. Children can then become frightened to let a bowel movement pass and this can be the start of a longstanding problem. If this issue arises, putting a nappy on before an afternoon nap will give the child time to relax and pass a motion. At this point it is vital that the adult stays relaxed and does not discuss any issues in front of the child as they pick up on these conversations and stress very easily. When researching the current trends it suggests that if constipation occurs put to the child into a nappy and let them squat on the potty in the nappy to produce the stool.
Tips for making this transition to pants more relaxed…
Some of the current theories recommend a toilet bag is used. Having a collection of favourite books that a child can look at whilst sitting on the potty or toilet can act as a distraction. Using a sand timer can be helpful so the child is not sitting too long, as this can lead to unnecessary straining and prolonged haemorrhoids (piles) can be a painful result. If a bowel movement is proving difficult for the child to pass, get them to lean forward on the adult and raise their legs using a step up so the child is in a squatting position, then rubbing their lower back can relieve the discomfort and enable time for the movement to pass through.
As the adult leading toilet training, it is vital to remain cool and calm as children pick up on emotions very easily. Think about the language being used and try not to talk over the child's head about what and how they are doing.
Another suggestion, within the current range of advice, encourages children to be stripped off and wear little or no clothing. This strategy is not generally practical as you cannot go about life with a child who is semi naked. Additionally, children need to understand what the expectation is long term and if they have been stripped for a period of time, it can be difficult to get clothes back on them – changing the goal posts will only confuse and lead to mixed messages. Having lots of cheap but attractive new underwear, letting your child choose the pictures on the front, can often be incentive enough.
Sticker charts offer a visual reward but the adult needs to understand that this form of reward has short lived results and a backup plan needs to be introduced before the child tires. Parents know their child best and working in partnership with the nursery to have a consistent approach to rewards will make the task all the more successful. Now you are armed with a selection of strategies I wish you every success in the next chapter of your child's development.
Christmas
As Christmas Day approaches, with trees sparkling, presents wrapped and the hope of a flurry of snow, I wanted to take this opportunity to tell you about the exciting and Festive Fun we have planned for Daisy Nursery the week before Christmas.
Our
Christmas activities
are displayed on our noticeboards and website – together with daily reminders on Twitter so that you can organise Christmas Jumpers, Fancy Dress, Pyjamas and Party clothes in readiness to join in with our celebrations.
Every day there will be a different theme and we are excited to welcome the amazing Mr Tall a children's entertainer who will be showing us some magic tricks and balloon modelling as well as playing some party games with the children and team.
As we dance ourselves dizzy at the Daisy disco, we will be practising our singing skills with a Karaoke light show, tucking into a traditional Christmas dinner with all the trimmings and of course, crackers to pull. Then, as we start the countdown to Christmas Eve, we will be chilling out in our PJ's or onesies as we watch festive films and sip on Hot Chocolates and marshmallows together.
Dates for your diary: the Nurseries are open until 6pm on Friday 23rd December and we re-open for the usual sessions on Tuesday 3rd January 2017 for the New Year.
As we reflect back over the year, we would like to draw your attention to the fantastic successes of Claudia, our Quality and Training Manager who works tirelessly to support and mentor our team with staff meetings that keep all of us up to date with industry updates and ensures we continue to provide outstanding care to our families.
Not only that, this year Claudia has supported many of our hardworking Daisy staff as they continued with their Professional Development and three more of the team have graduated as Early Years Teachers – bringing the total of Early Years Teachers across the settings to an amazing ten.
Others have qualified to a Level 5 in Early Years and several more are working towards their Foundation Degrees. Three apprentices have passed their Level 3 Award in Child Care and we are proud to say they have now been employed by us as Nursery Nurses.
We currently have many other team members who are training for a variety of qualifications ranging from Level 3 in Early Years Educator to Masters Degrees in Early Years. This shows our commitment to providing outstanding quality, professional and caring team members who are prepared to go above and beyond to ensure that we continue to lead the Early Years industry as ambassadors for training and practice.
Claudia has been recognised for her hard work and devotion by one of our training providers, Chiltern Training, receiving a Gold Employee Award together with a generous cheque which we will be able to use to fund further training for our teams, including Paediatric First Aid, Safeguarding Training and Makaton support.
We would like to express our gratitude to those parents that take the time to leave reviews for the Nursery and team on the daynurseries.co.uk website. It is so rewarding for us to receive such high praise and recognition for the close support we offer our families within the Nursery. The teams have been delighted with those received this year and we always display them on our noticeboards for everyone to read.
As we look forward to the New Year and exciting times ahead for Daisy Nursery, we extend a massive THANK YOU for your kind words, presents, chocolates and biscuits, as well as some very tasty mince pies, it is so nice for the team to receive them and we wish you all a very Merry Christmas and a Happy New Year and we look forward to seeing you in 2017.
Brave The Shave
On Saturday 3rd September, our friend and colleague at Sunshine Daisy Nursery, Ashlea Lohman is taking our commitment to supporting charities close to our heart to another level, when she 'Braves the Shave' and shaves all of her hair off to raise money for Macmillan Cancer Support.
By braving the shave, Ashlea will be standing proudly alongside those men, women and children who battle with cancer and go through hair loss which can affect both now they look and how they feel.
All money that Ashlea raises with go towards supporting people facing such a difficult time and help them to feel more in control. If you are impressed with this amazing challenge, and want to learn more and donate to support her, please visit bravetheshave@macmillan.org.uk and search for Ashlea Lohman.
We will be with Ashlea every step of the way and will keep you up to date with how it goes and of course, photos of her fabulous new look.
New! Looking for a role in Early Years?
It is a very exciting time at Daisy Nursery as our newest setting, Crown Daisy continues to grow. We are now looking to recruit a Senior Nursery Nurse to join our team.
We are a small, family owned company with big ambitions currently looking to recruit a Senior Nursery Nurse to join the friendly and professional team at our nursery situated in a stunning Lodge house that backs on to woodland on the border of Farnham/Aldershot. If you are enthusiastic, energetic and passionate about providing home from home care for young children this role is perfect for you. As an outstanding practitioner, you deserve to be part of an Outstanding team.
If you hold at least a Level 3 qualification in Childcare or Early Years and know your EYFS from your COEL, we would like to meet you!
Candidates will understand the nurturing aspect of our industry, respect children as individuals and welcome the opportunity to be part of their growth and achievements forming close bonds with the children and their families. The right person will be a team player and seek ways to contribute to the smooth running of the day to day operations, supporting their room leader and colleagues as they observe and assess progress using our bespoke online learning journals to record the EYFS outcomes.
The role is full time, four and a half days a week, with a starting salary of £18,018 per annum. We offer a range of competitive benefits including but not limited to; paid lunches and rest breaks, company pension scheme, performance related bonuses, 35 days paid holiday, uniform not required, flexible half day shifts enabling you to balance your work/life commitments each week and free parking on site.
Please apply to operations@mydaisynursery.com with a recent CV and a covering letter.
Thank you for your interest.
Toddlers 'need early years teachers in nurseries'
www.bbc.co.uk/news/education-35917037
Our commitment to raising the standards in early years is evidenced throughout our nurseries and our ethos is to commit to providing all of our children inspirational opportunities through our dedicated and passionate staff. At Daisy Nursery Ltd we have always considered that our staff team should reflect industry innovations and to this end we have been a forerunner in sending our staff on further training. For a small company to invest in a Quality and Training and Operations Manager both of whom have Early Years Professional Status and who are supernumerary to requirements demonstrates the commitment to exceptional care, learning and play for all the children that attend. This also ensures that all the team have a work based mentor to support them in their day to day role.
As a company we have been enabling our team to take up places at Reading University to complete the Early Years Teacher Status, this being the NQT equivalent for Early Years. This means that the team offer the children the most current and relevant approaches of the time and this filters down throughout the nurseries as we currently have over half of the Daisy workforce engaged in Continuous Professional Development. Many of these are at degree level or above. Regular training allows all staff to constantly improve their skills and knowledge, as well as boosting morale and enthusiasm. It is proven that proactive training programmes make a difference to the outcomes for the children and families attending a setting. To create our passionate teams we also value and proactively recruit a range of diverse staff who will go the extra mile and embrace each of the children's unique characteristics.
Welcome to the Daisy team by Claudia Padfield
Sunshine Daisy Nursery are pleased to announce that Emily Andrews will be joining the team from Monday 8th February. She was excited by our ethos for active learning and after her excellent interview, part of which she spent in the garden playing parachute games, the children were keen to include her in the action and she certainly left her mark. Emily has been organising animal experiences with children in her previous role and is looking forward to increasing her knowledge with further training.
Crown Daisy Nursery are pleased to announce that Millie Fairclough has started at nursery this week. She is about to embark on her career in childcare and Millie will be our apprentice completing the Toddler team. She enjoys spending time with children, supporting them in their exploratory play and is keen to learn the theory behind what makes your children tick.
Both young ladies will be supported by me in my role as training manager, and I look forward to introducing you to them in due course.
Sunshine Daisy Nursery is now hiring!
Position Filled
Sunshine Daisy Nursery is now hiring!
Position Filled
Sunshine Daisy Nursery is seeking a senior colleague to join our team. The right person will understand the EYFS clearly and enjoy implementing learning strategies to suit different levels of development. The right person will understand the nurturing aspect of our industry and respect children as individuals and welcome the opportunity to be part of their growth and achievements. The right person will be a team player and seek ways to contribute to the smooth running of the day to day operations, both supporting line managers and coaching junior colleagues.
Click here for more information
or please send a covering letter and recent CV to victoria@mydaisynursery.com.
Thank you for your interest.
Great British Bake Off lover needed! (Position filled)
If you enjoy designing and creating nutritious meals for young people and you have a flair for hiding vegetables when needed, you are the one for us! Butter Daisy in Bramley, Hampshire is looking for a new colleague to join our team and run our kitchen. The right person will be able to work both on their own in their kitchen cooking, baking, cleaning and carrying out food and hygiene due diligence, and also part of the wider nursery team liaising with practitioners and teachers to discuss catering requirements. The right person will understand and be able to cater taking into to consideration cultural, religious and medical differences whilst making these menus as inclusive as possible.
We are looking for someone with a passion for food who is keen to get involved with our children in cookery club, get green fingered in the small kitchen garden we have created to grow their own produce, and someone who is happy to be at the heart of our nursery meeting parents, their children and of course have an understanding of weaning and different stages of child development.
Although any basic food, hygiene or catering qualification is desirable, for the right candidate we would offer full training and an opportunity to train for the necessary qualifications.
The role is Monday-Friday inclusive, 10am-4pm, salary is dependent on qualifications and experience. This role is initially to cover a maternity leave period, however as the company is growing and expanding, we will be offering a permanent contract if preferred.
If you would like to apply for this position and join our Outstanding team please send your covering letter, a recent CV and a sample menu of your choice to Mrs Clare Canning at operations@mydaisynursery.com
Congratulations Vicky
A big congratulations to Vicky, who was chosen as a winner at the Women in Business 2015 South of England awards. Vicky was chosen as winner of the Woman of the Year SME (Small or Medium-sized Enterprise) category, which included some very tough competition. Her award was "in recognition of business excellence and outstanding leadership in the south".
Butter Daisy Nursery is now hiring!
Position Filled
Recently awarded Ofsted Outstanding in all areas; Butter Daisy Nursery is seeking a senior colleague to join our team. The right person will understand the EYFS clearly and enjoy implementing learning strategies to suit different levels of development. The right person will understand the nurturing aspect of our industry and respect children as individuals and welcome the opportunity to be part of their growth and achievements. The right person will be a team player and seek ways to contribute to the smooth running of the day to day operations, both supporting line managers and coaching junior colleagues.
We offer the right person a very competitive annual salary, 28 days holiday a year, and many additional benefits such as paid lunches and tea breaks; a company pension scheme; performance related bonuses; complimentary team events and treats; and a four and a half day week allowing individuals more flexibility and control with their work/life balance.
If you are Outstanding, then you deserve to be part of an Outstanding team – and we want you to join us! Please send a covering letter and recent CV to Victoria@mydaisynursery.com.
Thank you for your interest.
Summer of Fun – 2015
It is that time of year again as we reveal our exciting summer of fun program. All three nurseries are starting a 5 week long program of events with special visitors, inspiring activities and opportunities for learning in a variety of topics. We are heading across the channel on our Bonjour to France! day, digging deep as archaeologists in our Dinosaur Day, sailing the seven seas with our colourful parrots on Pirates at the Beach day, being active as we learn yoga, Morris dancing, pop lacrosse and dough gym on our Let's get Physical day, culminating in our end of summer Graduation and Summer party day. For more information about each of these days and how they relate to the EYFS we have put together an introduction to summer of fun on our Parent's Page – each day also has a handy "Parent's Alert" with tips, things to remember and the key dates for your diary. Keep an eye out on twitter and our online gallery as we will be sharing lots of photos.
Butter Daisy is Ofsted Outstanding!
Butter Daisy Nursery was visited last week by Ofsted for an unannounced inspection and we are absolutely delighted to share our result; we are officially Outstanding!
The day long inspection was gruelling as the team wanted to showcase all the wonderful things they do day in and day out, and so they led the inspector around the suites talking her through their activities, their planning, and their bespoke learning journeys for each child. During feedback the inspector told us she was very impressed and that she had learnt a lot from our team. She commented that she was going away to look up "Wonder Weeks" as our Baby team had inspired her to learn more about the peaks and troughs of leaning and acquiring new skills in this particular age group. We are all over the moon with this recognition and if you had seen us last week we were mostly grinning like Cheshire cats as we processed the great news and let it sink in. This result really reflects the quality of care and learning we provide for all our children, the inspector loved our role play "school" to help our oldest pre-schoolers as part of their transition to big school. The children spoke eloquently and passionately about their time at nursery, giving voice to their feelings and experiences. We did have a chuckle when one child told the inspector when asked what he would like to be different, he requested even more puddings! Butter Daisy has gone from strength the strength since we joined the village community in Bramley, and we are also delighted to be considered an asset to the community in the recent Neighbourhood Plan. Parents, children, friends of the Company and fellow Early Years practitioners, thank you for your continued support, I am very proud of my team and thrilled to be able to share our wonderful news.
Double Whammy for Daisy Nursery
Two Ofsted Outstanding judgements in the last 12 months have cemented our reputation as the premium nursery company in North Hampshire. The entire senior team are delighted to have what we have always known validated: we only do what we do to be Outstanding and our Company ethos and beliefs are widely supported by the team and the parents who choose us. We work incredibly hard to be the best and to learn and understand each individual child who joins. Our hard work will continue – being Outstanding isn't just a tick in the box, over and done with. It is it is a feeling, a presence, an attitude and it is prevalent in everything we epitomise and will continue to do. No one here rests on any laurels. We will always look forward and seek new ways to grow whilst ensuring we are sustaining the high quality for which we have now been officially recognised.
New nursery and pre-school opening soon!
I am delighted to introduce
Crown Daisy Nursery
, our third private nursery and pre-school in the group. Crown Daisy is located in Anglesey Lodge a beautiful former coach house on a large historical estate just off the A325 between Farnham and Aldershot but with easy access to Farnborough, Fleet, Church Crookham, and all the villages in between. Crown Daisy officially opens on Tuesday 7th April with visit days to be announced soon.
Due to the limited amount of spaces available in the small premises and the popularity of our other nurseries and pre-schools, we have started taking expressions of interest and these people will be invited to the first of the visit days. If you would like to register your interest please email crown@mydaisynursery.com with your child's name and age and what sessions you will be looking for, or alternatively call us on 01252 336319. Emily our Nursery Manager looks forward to hearing from you.
Job vacancies at our new nursery on Farnborough Road
We are currently looking to fill a range of positions in our new setting so if you are looking for a new challenge and have what it takes to be part of building an outstanding environment and are passionate about outcomes for young children, please email a covering letter and CV to Victoria@mydaisynursery.com telling us why you'd be an asset to our team. We look forward to hearing from you!
Wanted
Nursery Cook at Butter Daisy.
Position filled
.
An Outstanding Result for Sunshine!
On Wednesday 9th July Sunshine Daisy was visited by two Ofsted inspectors for an unplanned inspection. We are delighted to have achieved an Outstanding in every single area and will post a link to the report as soon as it becomes available. Thank you for celebrating with us at our Ofsted party, and for being part of our success story.
Local MP James Arbuthnot gives his approval to Butter Daisy
Local MP James Arbuthnot paid Butter Daisy a visit on Thursday 24th July and enjoyed a tour of the setting, and after admiring our facilities and team, he joined the pre-school children to taste their freshly baked cherry cakes in the home corner. Some of our pre-schoolers even asked Mr Arbuthnot questions that wouldn't be out of place in the House of Commons!
Information Leaflets
We have recently put together some information sheets about various aspects of the nursery. These are available in our nursery receptions and by clicking on the links below. We hope you find them useful and a good starting point for different stages of nursery life. If there are any other topics you would like us to cover please do let us know, thank you.
Parents in Partnership
School Readiness
Healthy Eating
Sleeping and Bathrooms
Settling In
Preparation for school
In preparation for your child's transition to school we wanted to share a selection of activities that should help to smooth the way for them! Our Pre-school team at Sunshine are working daily providing a range of activities that are fun and challenging to embed and increase their range of skills.
Becky has worked with foundation stage children for ten years and so knows both what schools require of your child and what would enable their smooth transition. In addition to this we have liaised with local schools to ensure that we are guiding you down the correct path.
Talking to your child about the world around them is the most valuable thing that you can do. Instilling a breadth of knowledge about their world can lead onto more academic skills. For example: explaining the function of traffic lights introduces both colour and safety topics. Making a shopping list can introduce literacy, numeracy and healthy eating. Whilst cooking you could discuss a range of mathematical language, more, less, greater, smaller, add and take away. Playing phonic eye spy will help to hear initial sounds in words. Activities to strengthen their gross and fine motor skills will help them when it comes to writing. Pegging out washing or becoming a Pegosaurus, swimming or scarf dancing can all help. The opportunities are infinite and require little or no planning, just patience!
Being able to dress themselves, including putting on shoes and zipping or buttoning coats is incredibly important. Your child will also be doing P.E. and so will need to be able to change fully. It can be distressing for a child if they are the last to change or the only one needing the teachers help. In addition, it is imperative that they can toilet themselves (including wiping their bottoms) Staff in school are generally discouraged to do this. Make extra time for your child when they dress so that you can talk them through how to turn clothes in the right way or the best way to put on their socks. In Pre – school we are encouraging children to wipe themselves first and then checking that they are clean, we already have more independent toilet goers due to this.
As for more academic skills that would benefit transition, being able to:
• Recognise their name
• Write their name independently (or at least the initial)
• Count to ten
• Recognise numbers to ten
• Know their colours
• Be able to use scissors
• Recognise shapes
• Know the alphabet including letter sounds
The list above is part of our day to day work with your child in our Pre-school, support from home would help to embed these skills.
We are very happy to answer any queries you may have and also happy to give you more activity ideas should you want them.
We are looking for a new Senior Nursery Nurse to join our team at Sunshine
It is a very exciting time at Daisy Nursery; we are delighted to be looking for a Senior Nursery Nurse to join our team.
We are a small, family owned company with big ambitions and we are fortunate to have very experienced and inspirational managers who lead our team and work closely with each colleague to continue their own professional development and the development of their individual passions by offering them opportunities to attend training both internally and externally. Our nursery is in a beautiful old farmhouse surrounded by fields and a farm that we are able to explore. Inside the building, each age group has their own special space, giving children and team members more room to utilise and explore each day.
Your role will be to support your room leader and colleagues in a small suite of rooms with all aspects of nursery care; each child is treated as an individual and you will be key person to several children observing and assessing their next steps in relation to the EYFS. You will be expected to set up activities, to provide nurturing and loving safe spaces for the children in your suite, and you will need to meet every basic need including feeding, changing nappies, and keeping your environment clean and tidy.
The right person will be enthusiastic, energetic, passionate about outcomes for young children and be able to form close bonds with children and their parents. This is a good role for someone looking for a new challenge and looking for a small nursery environment to develop and hone your skills.
You will hold a minimum NVQ Level 3 in Children's Care Learning and Development or equivalent qualification. Professional qualifications such as First Aid, Child Protection, Basic Food and Hygiene are extremely desirable.
Our team members are scheduled to work 4 full days and one half day, and enjoy many benefits including paid lunches and rest breaks, 28 days holiday, pension package, and professional training support. Salary is subject to experience and qualification, to be discussed at interview.
To apply for this role please email a CV and covering letter to victoria@mydaisynursery.com.
Claudia's response to Ofted's annual report on Early Years
If you haven't seen the report you can click on either link to get summaries.
Ofsted Link
BBC News Link
I am totally saddened by last week's announcement regarding Early Years. I feel it does not reflect the dedication and hard work that many Early Years professionals do on a day to day basis.
As a passionate and committed advocate for under-fives I hate the idea of children as young as two being in school settings. Childhood is such a precious time and should enable children to explore the world with 'awe and wonder'. I send our Pre –School children on to formal schooling and some are literally just four. They go into a class of thirty children with one teacher. Even though the teacher may be highly trained they cannot know and understand every one of those children, or have the time to sit and really listen to what makes each individual tick. Cognitively children are not developmentally ready to take on the nuts and bolts of reading and writing until six years of age. This may be why the Scandinavian children are out performing British children by the age of ten. We start far too early and this leads children to learn about failure at a very young age.
In the thirty two years I have worked in the Early Years sector it has seen the most changes through regulation and curriculum out of any age group. Many of them I have piloted and seen introduced with very little support or guidance as to what the correct method of applying them might be. Politicians should not forget that research clearly proves that quality care and inspiring environments, encouraging free play, develop and enhance the majority of the required learning during this period in a child's life. Of course children learn from the world around them and the opportunities they are provided with on a daily basis, but this is built on firm foundations of empathetic and knowledgeable carers, who see each child uniquely. Only with a solid start can we scaffold strong and well-rounded little people.
Spring Term
Welcome back to a new term! The week of Christmas activities were a big success despite the power cut on Christmas Eve, and we have lots of lovely new photos to share with you on our parent's gallery so don't forget to log in and check out the new uploads. Our new nursery Butter Daisy had a fantastic launch party on 3 January and our helpful team were excellent waitresses (even after the champagne!) We were very proud to show off the site to so many of our supporters and colleagues in the industry, and it has helped erase the memories of putting together the new flat packed equipment and furniture day after day after day!
We have been blown away by how Butter Daisy has taken off already, we have received nearly 20 applications so far compared with the four we received for Sunshine for the first month, so we are all very surprised and of course pleased! Bramley has been very welcoming to us and the Services for Young Children team based in Chineham have been coming to visit to see how the barn renovations have gone and how we have set up the new site. So far the pre-school play loft has been the most complimented piece, and despite us missing the ample storage of Sunshine we are thrilled with how the overall design has come together. You can see photos of the layout of Butter on our twitter feed.
Don't forget you can visit our nurseries at any time, just call either setting to arrange to meet with Claudia and the Nursery Manager who will be delighted to give you a tour of the facilities, introduce you to the team, and answer any questions you may have about nursery life and the introduction to learning through the nationwide Early Year's Foundation Stage. They will also be able to provide you with application packs and explain the registration process in full.
Christmas
As Christmas is drawing nearer we have designed our week of festivities and we are very excited to be able to share those with you now.
Wednesday 18th December – Christmas Party
Children and the team are invited to dress in their best party clothes abd join in with activities such as 'pin the nose on the snowman', 'hunt the Christmas bubble' and 'sleeping reindeers'. As well as enjoying a mini disco/dance and musical statues.
Thursday 19th December – Zoolab Visit
'Around the world with Father Christmas'. Father Christmas visits billions in one night, but when did he start to deliver gifts to the world? Where did the tradition of putting out the Christmas stockings come from and how does he get down the chimney? Find out Father Christmas' history and play probably the most popular party game in the world!
Friday 20th December – Christmas Dinner with all the trimmings with special guest Rev. Jane
Monday 23rd December – Sunshine Daisy Concert
Everyone is invited to wear Christmas jumpers or Festive Fancy Dress for our concert throughout the day where each suite will sing songs and accompany each other with musical instruments; lots of practising going on already!
Tuesday 24th December – PJ Party
Everyone to wear their pajamas or onesies and enjoy a relaxing day of Christmas films on the projector and hot chocolates and marshmallows.
Adverse Weather
Thank you to all the parents who came and picked up earlier this evening; our power has been out all day and has still not come back on yet (8.30pm). We will open again as normal tomorrow; however if we are still without power we will close again at 4.30pm to avoid operating in the dark!! It might be slightly chilly tomorrow if the heating has not been able to come on so please bring in extra layers – this is of course something we will monitor throughout the day to ensure conditions are suitable for the children to be at nursery.
We all enjoyed our party ploughman's dinner today and it has been a bit of an adventure pretending to be medieval without any power in the farmhouse; however SSE if you're reading, we'd really like it back on again by tomorrow, thanks!
Hallowe'en
A fun filled week of activities starts tomorrow; don't forget to dress up on Thursday! For more information please see our parent's noticeboard.
Nursery Photographer
As usual in October, we invite a photographer into nursery to set up a studio shoot in plenty of time for you to order as Christmas presents for your friends and family! Next Wednesday and Thursday are our shoot times so if you would like to send in a special outfit or bring in an older or younger sibling; please just let us know.
EYE Forms
Thank you to everyone who returned their completed EYE forms in time for me to send them to Hampshire County Council. If you are unsure how to complete the forms please use the guide we sent home and the example we have laminated and put up in reception to help, or alternatively speak with our management team who will be able to assist. Whilst processing them, we noticed a lot of forms had children's date of births written as 2013. These dates would not be eligible for the funding this term and so please check what you are filling in as something like this could affect your claim for entitlement this term. Thank you..
Paper News
An electronic copy of our bumper newsletter is available here:
Bumper Newsletter
Welcome!
Hello and welcome to our new and improved website. We are delighted with all the changes we have made and we hope you are too. If you have any trouble accessing the Parent page please don't hesitate to give us a call or send us an email and we will try to resolve it for you as quickly as possible.